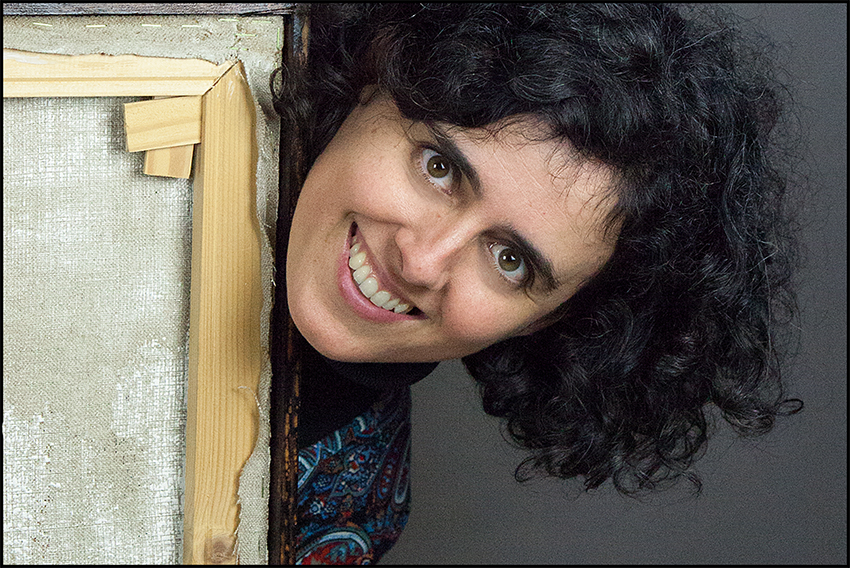 The transformative effect of entering the Dharma and the dawn of portraits of the Masters
Inês Pardal was born in 1977 in Cascais, Portugal. We can divide her artwork in two phases with two different themes: Before engaging in Dharma practice – entitled "Others" – and after encountering Dharma practice.
Inês began painting in her teens, always following artistic tendencies, perhaps initially a bit influenced by her sister who "draws nicely." In high school, she was encouraged to follow painting by her teacher Man, who was also a painter.
Thus, she attended college at the Faculdade de Belas Artes da Universidade de Lisboa (College of Fine Arts of Lisbon University), graduating with Visual Arts – Painting degree in 2003.
The evolution of her art
"Others" – period between 2002 and 2005:

This stage of work began while Inês was still in college. At this point, her artwork was focused on the world of cultural diversity and their vulnerability. Her paintings had personages from all over the world, which transmitted something ephemeral, fleeting and transitory, to create a parallel with the reality, in which inevitably cultures merge and are influencing each other, loosing their initial "purity."

The great variety of materials used (pigments, glues, cements, sands, pastes, etc.) granted the works an organic and irregular consistency, where often the figure merges with the background through the texture, drained paint and stains. This approach strengthens the central idea of the theme: the ephemerality of cultures. It was a stage of experiments and discovery, in which Inês also had the opportunity to exhibit her work several times.
A great change in her life was about to happen, when in 2006 she met her dear teacher
Jigme Khyentse Rinpoche
and took refuge. Since then she has dedicated her painting to works to the Dharma.
Dharma stage- since 2006
In this stage, due to the great influence of the Dharma in her life and the way of living in harmony with it, her works were inevitably directed to Dharma subjects. More specifically Inês developed a work of portraits of great beings. It is with great enthusiasm and honor that she paints them, she feels it is a gift to have the opportunity to paint these great Tibetan teachers, and she hopes that somehow the people who see the paintings can create a connection with these great beings.

At this stage, Inês continued to explore different techniques in different supports. Normally she uses mixed media on canvas and paper. The canvas support is often made by the artist herself, using raw linen or cotton on which she gives a gross treatment with glue and white paint, so that the surface can absorb the first watered sketch and other materials. In relation to the paper support, she uses cotton paper, and usually without any treatment.
Inês uses a wide variety of materials in her paintings such as: Gold leaf, pigments, glues, textiles, pastes, varnishes, sealers etc.
Now her work is going again into a period of transformation. Still within the subject of Dharma, but trying to explore the places of Dharma …
A work in progress
.
For Inês painting is not her main job; by the way, Ines has no main job, she is involved in different projects: she designs and supervises non-formal education activities in the areas of art and environmental education, arts awareness, painting, performing arts, illustration and animation film making  in different institutions, with different audiences: from 3 to 99 years. And also she does illustration and graphic design.