Inês Pardal's Commissions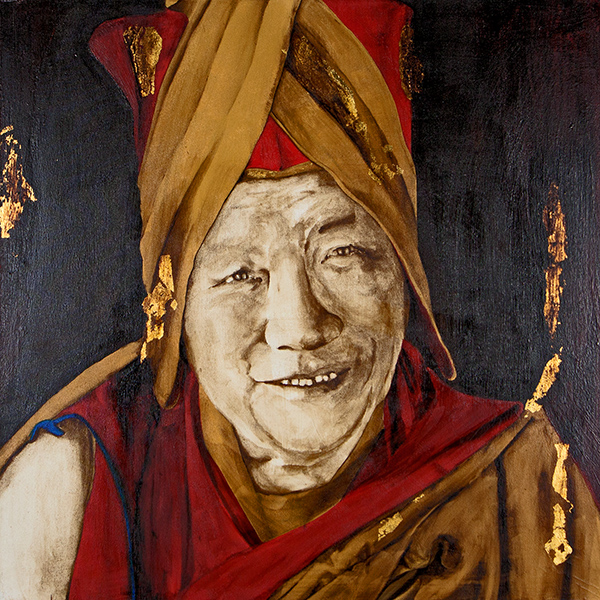 Inês Pardal offers two types of commissions:
Dharma Teachers Portraits & Dharma Sites.
1) Dharma teachers portraits on paper or canvas. One can order any teacher portrait, previously providing a good resolution image of the dharma teacher in question.
2) Dharma sites paintings on canvas. This type of work also requires one or more images of the place that the person wishes to have a painting of.
Inês' Commission process:
Dharma Teachers Portraits:  Inês begins by making a sketch of the teacher either on canvas or on paper. To do that, she uses a projector, adjusting the scale to the support. This sketch is done with a water sepia color.
Next, from the sketch, she begins to apply a least diluted paint still in sepia tone, creating a wide range of light / shadow, giving depth and volume.
Then she applies the color, using acrylic or paint made with pigments and glues. In case of the canvas works she also mixes pastes and sands to create textures. In this phase she adds gold leaf or gold paint.
Finally, she finishes the work, emphasizing some details that can bring out the work, such as intensification of shadows and light, harmonisation between background and figure, etc.
Dharma Sites: The beginning of the process of this work is very similar to the work of Dharma teachers portraits, starting with the sketch with water sepia color.
Then she applies the paints, pigments, glues and pastes, which on one hand will cover some areas of the depicted places and on the other will bring out the detail of other areas in order to offer some reference of the place in question.
The final finishes are given in order to reinforce the details the only clear reference to the depicted place.

Estimated time for completion:
Dharma Teachers Portraits:  Paper: 15 days | Canvas: 1 month
Dharma Sites:  15 days to 1 month
Estimated costs (depends on intricacy of actual commission):
Dharma Teachers Portraits:
Paper:
24cmx18cm    $400
30cmx25cm    $540
Canvas:
From 50cmx50cm to 70cmx70cm        $1400
From 80cmx80cm to 100cmx100cm   $2100
Dharma Sites:  
Canvas:
From 50cmx70cm to 70cmx90cm          $1600
From 80cmx100cm to 100cmx120cm    $2200
Minimal/maximum sizes for commissions:
Dharma Teachers Portraits:
Paper:
Min: 24cmx18cm
Max: 30cmx25cm
Canvas:
Min: 50cmx50cm
Max: 100cmx100cm
Dharma Sites:  
Canvas:
Min: 50cmx70cm
Max: 100cmx120cm
Commission original sacred art from Inês Pardal.