Fine Art Paper
&

Canvas Options
Dakini As Art: Fine Art Paper & Canvas Options
Many of our Dakini visual artists provide their own printing, weaving, specialty cards, brocaded thangkas, glass work, ceramics or specialty cards that are on offer throughout our galleries. These are visible on each respective artist's profile page under Artists in our main menu.
For select artists, Dakini As Art provides in-house printing of exquisite fine art prints and canvases.
We presently offer Dakini As Art printing for the following artists:
Images Of Enlightenment, Tiffani Gyatso, Paola Minelli, Faith Stone, Leslie Rinchen-Wongmo, Yen Chua,  and Zoe Redman.
The print options for each of their artworks are available in drop-downs for all their offerings in our cart.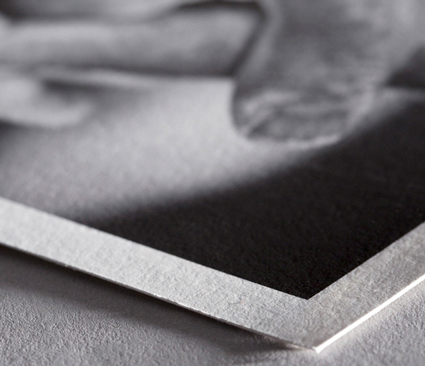 Only the finest for the finest: Dakini As Art's in-house print offerings

Dakini As Art features the prestigious Hahnemühle line of art papers.  Beyond the finest color reproduction on elegant, primarily tree-free, cotton rag bases, the textures and feel of these papers is enough to make one melt.  Premiere canvas options are likewise available, as is a bamboo option, plus a traditional alpha-cellulose gloss paper for those that prefer.
Our standard paper offering is Hahnemühle Photo Rag 308g.  It reproduces a dynamic range of artworks wonderfully and is offered at no additional cost.
The papers we offer by default in our art print cart are the following:
For All Color Prints:
Hahnemühle Photo Rag 308g (watercolor)
Hahnemühle Photo Rag Ultra Smooth 305g (premium watercolor)
Hahnemühle Museum Etching 350g (fine textured watercolor)
Hahnemühle Bamboo 290g (natural bamboo base)
Hahnemühle Photo Rag Pearl 320g (semigloss pearl finish))
Hahnemühle Photo Canvas 320g (canvas)
Hahnemühle Daguerre Canvas (matte canvas)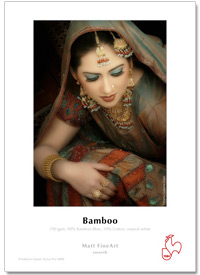 Recommendations specifically for Images Of Enlightenment Thangka Prints:
Recommended canvases: Hahnemühle Daguerre Canvas (matte canvas)
Hahnemühle Goya Canvas (satin canvas)
Recommended paper: Hahnemühle Photo Rag Ultra Smooth 305g (premium watercolor)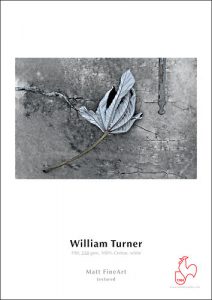 Custom Prints:
Hahnemühle William Turner (watercolor)
Hahnemühle Torchon (textured watercolor)
This canvases and fine watercolor paper are presently by custom request only as they are particularly favorable to specific types of photographic images. 
Buyers may likewise inquire to other papers and options.  Deckled edge prints are only by special request, as they involve a special order for the papers.  A slight additional cost will be incurred.
On Framing & Stretched Canvases:
All print or canvas orders are by default as print only, provided safely and professionally to our buyers in poster rolls for international delivery.
We generally recommend for buyers to have their prints framed locally for the two largest print sizes offered, due to the extra shipping costs incurred.
We can however have our printers elegantly frame any print by special request.  See more on our Art Canvas Recommendations & Stretched Canvases here.
There will be additional custom framing and shipping expenses added to these orders based on the actual costs of the size of print being framed or in cases of our two largest sizes for stretched canvases.  A custom quote will be prepared for the buyers approval prior to proceeding to this custom framing/stretching.