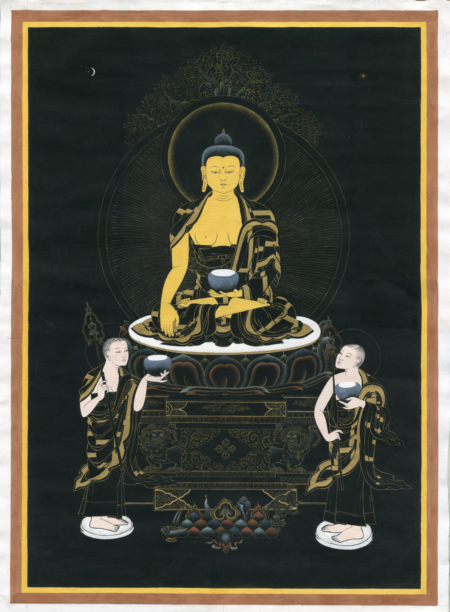 Buddha Shakyamuni & Two Disciples (Art Print) – Flera Birmane
Buddha – "awakened one"
The Buddha is shown here with two of his principle disciples, Arhat Śāriputra and Arhat Moggallāna, seated under a pipal tree—now known as the Bodhi tree—in Bodh Gaya, India. Upon encountering the Buddha, Sariputra and Moggallana realized that the teaching of the Buddha was far superior to that what they heard before, not only with regard to its concern, but also with regard to the depth of its path. They thus became followers of the Buddha
Black paintings, a relatively late appearance in Buddhist art, have added yet another means by which artists can conjure up visions of mysterious transcendent worlds. The blackness signifies the darkness of hate and ignorance as well as the role these qualities have to play in the awakening of clarity and truth.
Thangka with black background form a special category of contemplative painting. It is a highly mystical and esoteric type, usually reserved for advanced practice.
Black is the color of hate, transmuted by the alchemy of wisdom into compassion. Darkness represents the imminence of the absolute, the threshold of the experience.
YEAR: 2015
ORIGINAL MEDIUM: stone pigments, on cotton real gold is used as a paint
ORIGINAL SIZE: 50.5-36cm