Final Update: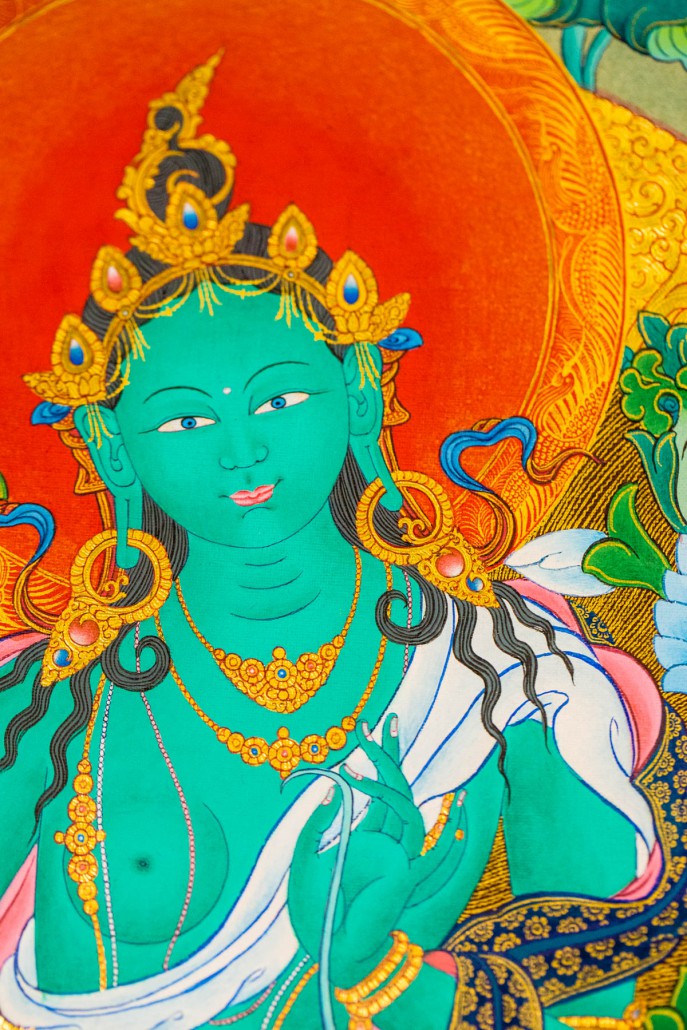 Dakini As Art raised a total of $5259.17 through 24 fine art print sales through our online galleries, plus 25 fine art cards sold at a Red Tara retreat by Ringu Tulku Rinpoche at Bodhicharya Berlin, as part of our May Nepal Fundraiser. 
All funds were donated to Tsoknyi Rinpoche's earthquake relief efforts through the Tsoknyi Nepal Nuns.
For details on how and where your support went to benefit, see: 
The latest update from Tsoknyi Rinpoche on the Tsoknyi Nepal Nuns relief efforts.

We at Dakini As Art in collaboration with Images Of Enlighenment (Nepal) are launching an art fundraiser throughout May with 100% of proceeds above print and shipping costs for any Art Print Orders from Image Of Enlightenment's galleries going directly to support Tsoknyi Rinpoche's emergency earthquake relief efforts via the Tsoknyi Nepal Nuns. 
Images of Enlightenment is a collective of traditionally trained artists based in Boudhanath, Nepal with a gallery right on the Boudhanath Stupa kora.  We have been proud to feature their artists exceptional thangkas since our inception.  Not only are their thangkas exquisite, they are wonderful people who truly put bodhichitta in action, as demonstrated over this last week.  Raju Yonjan, IOE's gallery manager, has been out campaigning and delivering food and other supplies to those in remote, rural villages devastated by the earthquake that hit Nepal on April 25th.  When we proposed a fundraiser to raise funds for Rinpoche's efforts, his immediate response was "Yes, do whatever will be of benefit."
Featuring deities and dakinis from White Tara and Green Tara to Machig Labdron, Samantabhadri,Vajrayogini, Vajravarahi, Ekajati and more, the Images Of Enlightenment Collection, with old and new thangkas is one of a kind. 
Again, 100% of proceeds above actual minimal printing costs and shipping from all print sales this month from IOE's galleries will go directly to Tsoknyi Rinpoche's Nepal Earthquake Emergency Relief Fund via the Tsoknyi Nepal Nuns.
You may select your art prints to support Nepal through their galleries here.
New print gallery (launched May 27th, 2015):
Note: This is for art prints only, as original thangkas will be difficult to ship from Nepal this month in the earthquake's aftermath.
About Dakini As Art Prints:
We print our Dakini As Art prints in Europe on a range of fine art papers and canvases.  They ship worldwide.  At present, our standard fine art watercolor paper for print orders is exquisite Hahnemühle Photo Rag.  For specialty papers or canvas, note with your order or feel free to contact us with your requests.
We at The Yogini Project and at our Dakini As Art galleries are happy to provide this platform for timely support in Nepal and to assist Tsoknyi Rinpoche's vast altruistic intent and efforts. 
https://dakiniasart.org/wp-content/uploads/2015/11/Green-Tara-A-Detail-A-Images-Of-Enlightenment.jpg
1800
1200
orgyendorje
https://dakiniasart.org/wp-content/uploads/2020/03/Dakini-As-Art-2020-Optima.png
orgyendorje
2015-05-02 00:59:04
2018-10-27 17:47:05
Nepal Earthquake Relief Fundraiser: 100% To Support Tsoknyi Rinpoche's Relief Efforts – Thangka Art Prints by Nepali Artists 'Images Of Enlightenment'