Faith offers three types of artwork commissions: Paintings, Printmaking, or Moku Hanga.
Paintings
I primarily work in a Contemporary manner for Buddhist and Hindu paintings and commissions.
I am inspired in my process by Karma Phuntsok, a Tibetan painter currently living in Australia and other contemporary Tibetan painters. I first saw Contemporary Tibetan painters' work in 2006, at University of Colorado, at the CU Art Museum. The show was: Waves on the Turquoise Lake: Contemporary Tibetan Art. I was sincerely struck by Karma's work. He uses traditional thigse proportions and figures but set in backgrounds of vivid swirling colors and dots, flowers and abstractions. It changed my life. Up to that point I would only follow the traditional method for painting thangkas. However, with the birth of my daughter, I was finding it increasingly difficult to devote the countless hours of pointillism and painting dots for shading the sky and other elements of the painting. When I saw that Tibetan painters were making the art form in a more contemporary manner, I realized this could work for me. It set me free. I chose to keep the Bodhisattva completely traditional in terms of the thigse proportions but put the deity in modern settings and shifted to using more modern methods of painting including acrylics, spray paint and paint pens. Over time, I have become friends with Karma Phuntsok and we regularly exchange photos of what we are working on. He continues to inspire me.
Depending on the size I can usually complete a painting within 3-4 weeks, larger ones take longer. Commissions range in price from about $500 for 16×20 depending on how complicated to about $5,000 for a 4ft tall painting. Prices vary on degree of difficulty, multiple deities.
Printmaking
In addition to painting I also do fine art Printmaking including Litho stone prints as used in the time of Rembrandt, Dry point etching into Plexiglas and metals hand pulled onto fine art paper, copper plate intaglio, and Moko Hanga, which is the traditional Japanese method for woodblocks. My Printmaking is not digital reproduction. I painstakingly hand carve or etch into the wood and hand rub or pull a print. I use all these varied methods to make Buddhas and Dakinis. They are limited edition hand made fine art prints. Because I am able to get more than one artwork from a wood block, I am able to sell them for reasonable prices. My limited edition fine art prints generally sell for half price of an original painting or less. I am also willing to hand carve or etch the deity of your choice. These take longer.
Moku Hanga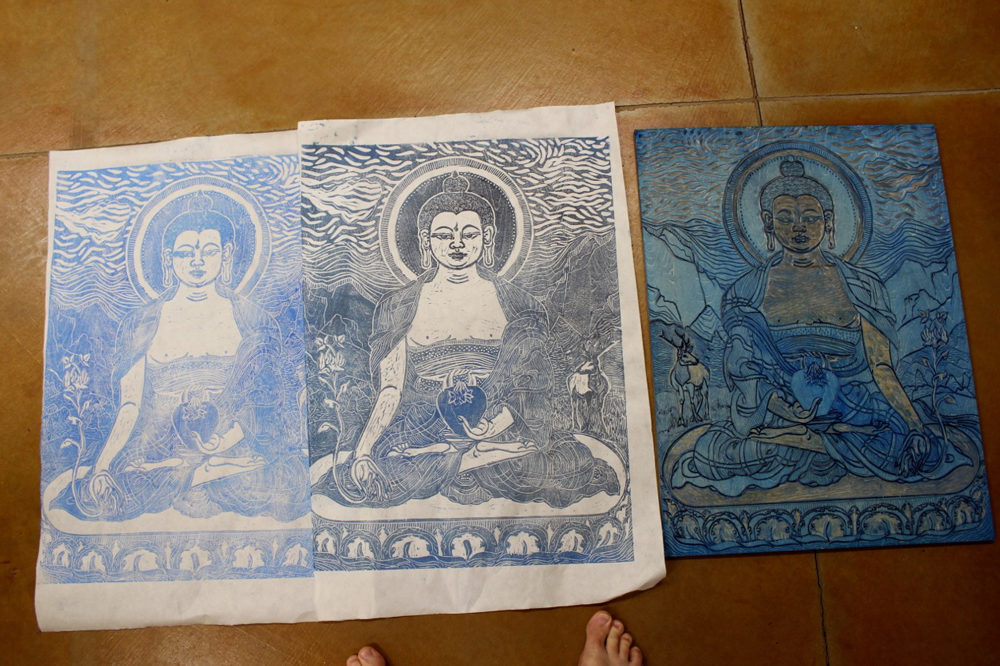 Woodcut printmaking is a relief printmaking process. After an image is drawn and transferred to the wood surface, the excess or unwanted areas are cut away by hand with carving gouges, knives and chisels.  The resulting print will be oriented in reverse form the original block.
For Moku Hanga, the traditional Japanese method for woodblocks, a separate block is carved for each color and prints can have between one to eight or more blocks per print. Watercolors or guache are applied to the wood block with a brush, the paper is placed on top and hand rubbed with a barren. This process may be repeated several times for each color to achieve the desired intensity of color. In this way, one wood block print may have been hand rubbed 20 or more times. Moku Hanga is a low tech, no printing press needed, but labor-intensive process.
I painstakingly hand carve my drawings and designs into Shina, fine grain Japanese plywood with Japanese gouges and chisels. One block can take several days to a week or more depending on the complexity of the work. Watercolor paints and water-base inks are applied to the surface and printed on fine paper like Kozo or mulberry paper. As all of my woodblocks are hand printed, there may be slight variations in the printing.
Request a Commission
Thank you for your inquiry!
We'll get in touch with Faith and get back to you as soon as possible with details.