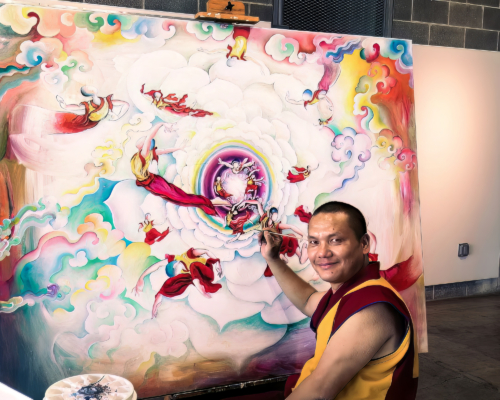 Lama Tashi Norbu was born in Bhutan. In his first years, he was greatly influenced by his grandparents, who led very spiritual lives. His grandfather told him that he would become a Lhabri, someone who paints gods and goddesses. Lama Tashi also witnessed as a child in Bhutan his grandfather go into a trance and travel into another dimension while meditating and bring messages, like Buddhist mystics, who have taken off in joyful flight. He was known for as a sacred being who works in the "Bardo" — the intermediate state after death and before rebirth. His grandmother, who was a female lama, is believed to have transformed into a rainbow body, after dying in a meditation posture, and slowly attaining paranirvana.
This all left a life long impression on Lama Tashi, who received his education in the school of the Dalai Lama, where he became a traditional Thangka painter and ordained as a monk. He has been educated in European western fine arts in Belgium and The Netherlands.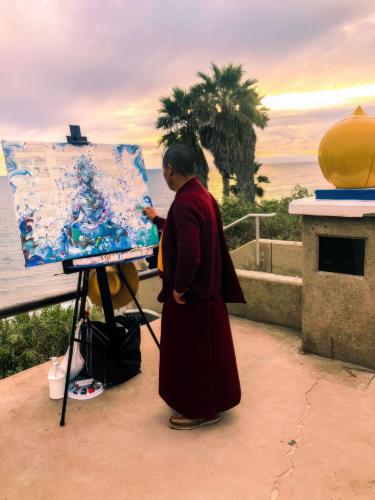 Lama Tashi became an accomplished artist who never lost his spiritual Buddhist upbringing. After numerous world travels, where his art has been exhibited in prestigious museums and galleries worldwide, he founded the Museum of Contemporary Tibetan Art in the Netherlands.  This is the only museum in the world dedicated to contemporary Tibetan art and is recognized by the Dutch government and registered as one of the National Museums of the Netherlands.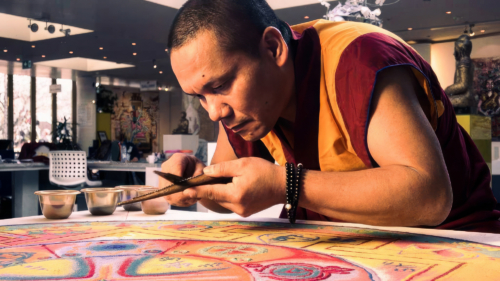 Lama Tashi now combines art, meditation, and Buddhist teachings and creates Tibetan sand mandalas on his many world tours. Lama Tashi is also playing with some of the greatest musicians of the world, such as "Earth, Wind and Fire" and in prestigious venues such as Carnegie Hall in New York City on 6th of June 2023.