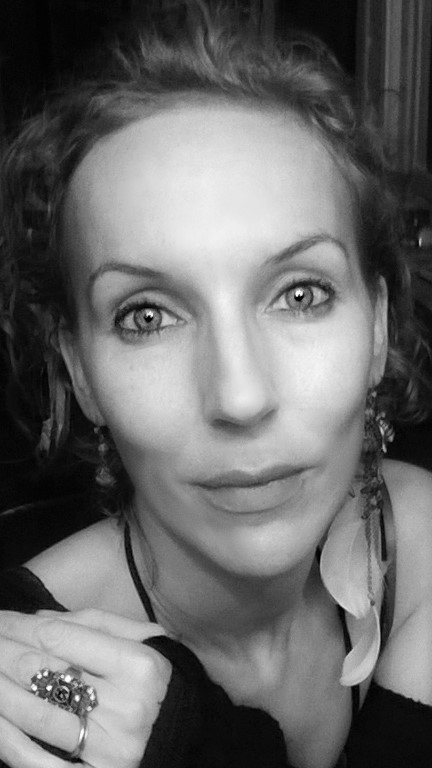 Tilly mixes symbolic metaphors on diaphanous ahimsa silk to create a hybrid Thongdrol in her own evolving style, bridging today with respect for the sacred.
The Art
Half French, half British, London born Tilly had a Tibetan Buddhist influence since childhood which was then expanded upon with explorations in quantum mechanics, Jungian psychology, neurology, symbolism, Tantra, myth and magic, colour, natural medicine, cymatics, and cosmology. Tilly's work is intuitive as well as researched. With a philosopher's mind, scientific curiosity and a dot-joining penchant, Tilly's work generally aims to communicate with the other than conscious mind to aid healing and alchemy through the wordless language of symbol.
"I have long noted that a particular deity or totem, or even colour, will start to make itself highly apparent to me until it has found form through me onto the silk. They have acted as evolutionary markers upon my journey. The painting is the grounding earthly element to my otherwise fiery cosmic water-baby nature. I also learned how images affect the structure of the brain, shift the mind and converse with the subconscious."
Her style often appears aged for both aesthetic reasons as well as a reverence towards the authenticity of the arcane. The Arcane Gnostic Grimoires of enlightened wizards and the wordless teachings of the mystics' sacred art are fascinations first triggered by the thangkas and brightly coloured illustrations of Janet Brooke in Jonathan Landow's book, Prince Siddhartha. Landow, who with other Westerners like Andy Webber, floated in the proximity of the eclectic family home during the early 1980s.
The Buddhist Influence
Tilly was a child living with her extended unconventional family in London when they were all blessed in receiving Venerable Phara Gelong Namgyal Wangchen (Geshe La) to live with them. Additionally, many other Tibetan Buddhists in his company graced their home, including Venerable Geshe Damcho Yonten, Lama Yeshe, Geshe Konchog and many other Red hats. (Even the now controversial Geshe Kelsang made the odd appearance.) Their family home became the Manjushri centre in London for a while before it eventually found a permanent address elsewhere.
Geshe La was Tilly's first Buddhist teacher.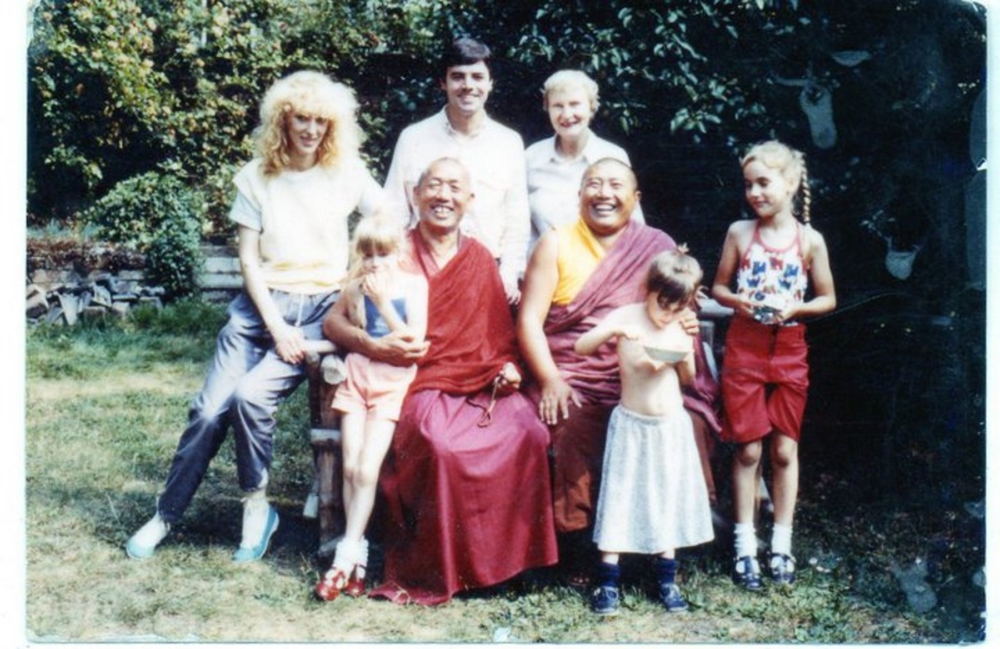 "My lessons from him were not as one would expect. He came with a love of newly discovered modeling clay – often fashioned into a rhino horn or mustache and pressed to his upper lip to make us laugh. Making his Tibetan tea, which he would splash all over the kitchen as he poured in grandiose style, grinning, arms outstretched with a pan in each hand. He would pour the deliciously curious concoction from one pan to the other to mix it up well. He could make it light and dark, by flicking the light switch like a strobe – electricity controlled at the touch of a button – what a luxury! His childlike play with wise eyes, a generous warm smile and infectious laughter, he embodied and imparted a legacy of utter integrity and appreciation. His message was not to take it all quite so seriously. His open heart came with no self-serving ego. He exhibited a genuine love for all with no hedonistic agenda nor crazy wisdom. His knowing was obvious. His teachings were profound and loved by thousands. What a blessing I was offered, and at such a young age! What a seed planted in my mind-stream to be nurtured as I matured, a seed I return to, especially when times are challenging… one I'm eternally grateful for."
Paying Attention to Synchronicities
Remaining mindful of life's breadcrumbs and lessons held therein, the nature of the work started to become clearer from 2009. Curious and unexpected events and people started entering her life, changing her life trajectory. Given Tilly's natural proclivities and personal experiences, she wanted her art to also be of healing service. So Tilly explored becoming an art therapist. This lead to new qualifications in work with colour, symbols, totems and more research of archetypes. Eventually, the deity work became increasingly apparent. Upon reflection, Ti notes that she was the little girl who always drew princesses and was musing over the relational dance of masculine and feminine ever since she can remember. She was fascinated by the psychological curiosities of sentient beings and what it means to be authentic.
For the Love of Silk
Tilly has painted for most of her life and dabbled in a variety of mediums and subject matters. She has had exhibitions in France and the UK, done book illustrations and personal commissions both in oil portraiture and acrylic murals, from Trompe l'oeil to stylized pieces, with a natural propensity for the figurative. But it was the discovery of painting on silk that stole her heart.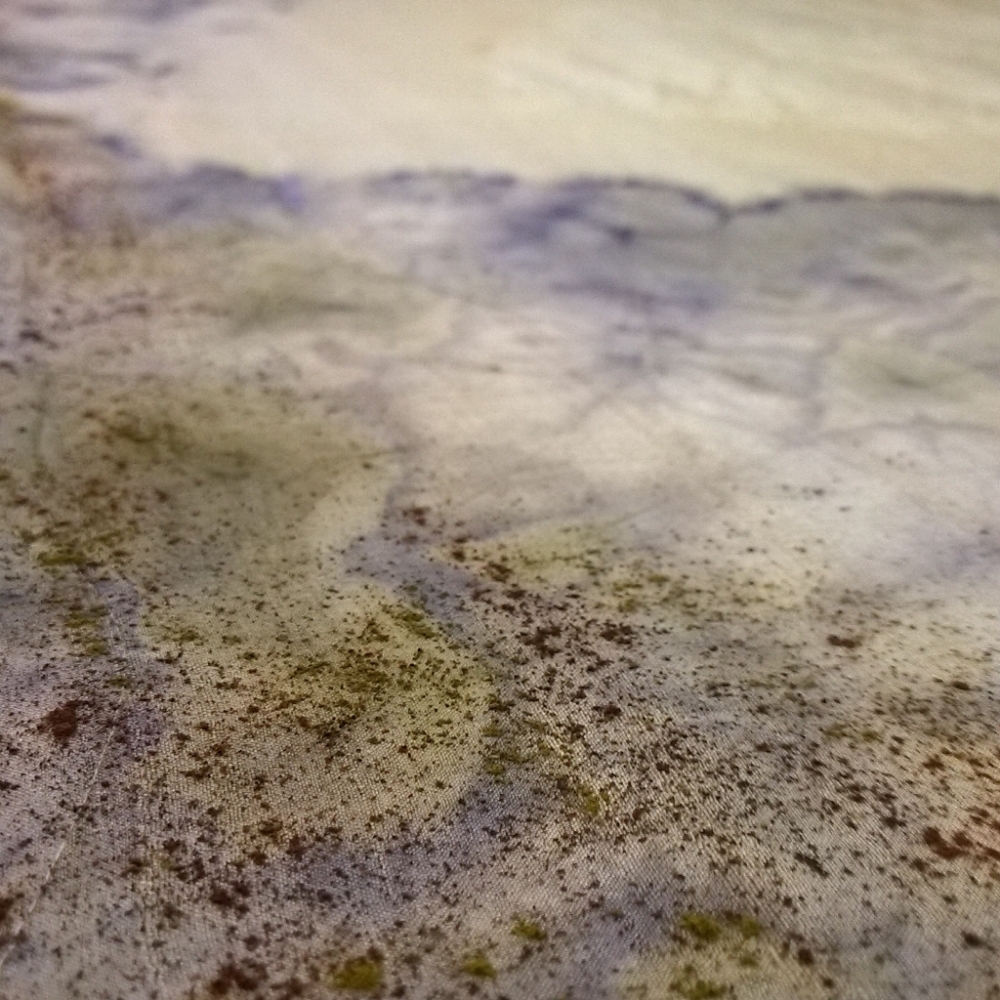 "There is an ancient Oriental proverb that states that we are connected by an invisible and unbreakable thread with the people we are destined to meet. Silk is one of, if not the strongest and most enduring protein fibers found in the natural world. It is organically produced to protect the caterpillar whilst it undergoes its extraordinary transformation and evolution into its flying ascended form. When it finally dawned upon me that silk was to be my artistic substrate, I was transformed. I couldn't have consciously asked for a better one as its representation of such alchemy married perfectly with my love of the powerful effects of symbol through art."
For lifelong personal reasons, using ahimsa silk is fundamental for Tilly. Having spent a few years sourcing an ethical supplier, she has found silk with a finish unlike standard silks, adding to that arcane feel, setting the tone for the next evolution of her work.
Though each piece asks for a different look, which at times may include the clear sparkle of colour and gems, the silk is typically dipped into an eco bath. Eco prints and natural pigments are used wherever possible to combine a more muted organic look with the ethereal. As with most thangka painters, meditation is part of the painting process. In fact the painting typically is the meditation. And with an understanding of cymatics and reverence of mantra, subject appropriate sounds are played during the period of painting. Silk has that beautiful magical quality in that it has been produced by and protected the alchemy of the caterpillar who is then liberated. The silk holds that energetic memory and further imbued with the magic of its own chi.
As a Dharma Artist
The intention is to manifest art that holds positive conversation with the subtle mind as well as being aesthetically pleasing. The goal is to produce art that has integrity by creating visual sadhanas, deities, totems, masks and mystical sacred iconography.
A Personal Path
The Sum of the Parts that Leads to Now Tilly's children are now on the precipice of adulthood, which brings the next chapter of transition as they spread their wings. She is now able to give more attention to the flow of her art. Life has been her guru and has brought her to where she is today. Lessons included riding the typical human emotional rollercoaster with as much balance, integrity and love as possible. In true 'yin yang' style, the early blessings were a cosmic counterbalance to an estranging quick tempered father and strained familial dynamics.
Tilly witnessed some of the shadow side of being human, even within the Buddhist community. There was the parental divorce followed by the rest of the family relocating to the Shires, then a college art education, which in a convoluted way took her back to London and into the next life chapter called 'Marriage and Parenthood'. However by her mid-twenties, her husband and father of her first two children walked out of the closet and into happiness with his boyfriend. Single, with two little ones, she took a regular pay cheque working with challenged inner city teenagers. Free-reign art sessions were the only time these kids tempered their socially challenging behaviour and calmed themselves. This high-stress period resulted in a side step into a South Korean form of karate, with ensuing European accolades. This in turn led to an eleven ­year relationship with the father of her third child, a relocation to rural France with an enormous renovation in hand and then the subsequent dissolution of that relationship as differing life trajectories became obvious.
Finding herself a single mum again and home educator for a few years in a foreign country – referred to as her 'hermitage decade' – her young family naturally took precedence. It was during this time, the journey of conscious research, education and deeper learning really started.