Karma & Faith
"Our names express the idea of this book.
It's an exploration of Tibetan Buddhist art influenced by the West and of American art influenced by Tibetan Buddhism. We come together in a blending of cultures with creating Buddhist art at the core. We are both interested in making the Buddhas in a contemporary way and by doing so, making them more accessible to our world and times.
Karma and I studied traditional Tibetan thangka painting, but from very different backgrounds. Karma lived under and eventually fled, the Communist occupation of Tibet and speaks from his experience and culture. I grew up in a zoo, where my father was the director, with my eight brothers and sisters. I was drawn to thangka art at an early age and felt a strong connection upon viewing my first thangka.
Seeing Karma's contemporary thangkas pregnant with his personal journey inspired me to paint in a way more directly reflective of my life and culture. I was profoundly moved by Karma's painting Invocation of Buddha. That painting, included in this show, changed my life and artwork. It blew my mind, in merging the freshness, the depth, and the adherence to traditional thigse for the Buddhas while exploding with colors and feeling new to the art form.
I reached out to Karma some years later to thank him and to say what a positive and beneficial impact he had on my work. He was so gracious and friendly. We became friends and have held workshops together to teach contemporary Buddhist painting.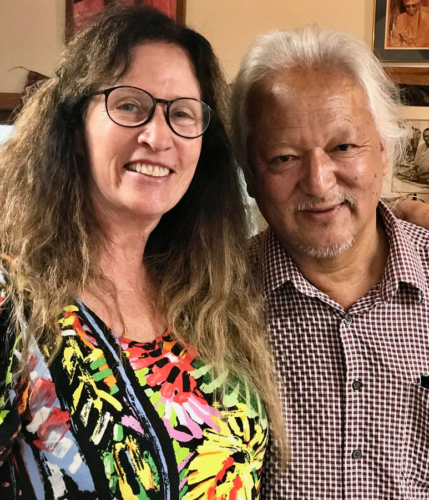 Here are some of our favorite paintings and woodblocks."
~ Faith Stone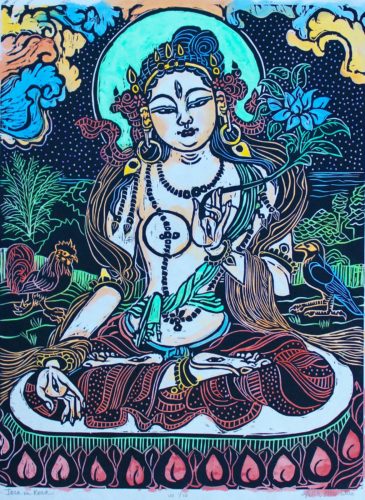 "Karma and Faith, which features the contemporary works of the Tibetan and American artists, Karma Phuntsok and Faith Stone, reveals many aspects of the contemporary renaissance in Indo-Tibetan Buddhist art.  Traditionally, the techniques employed in creating this pictorial art relied upon strict canons of precise iconographic measurements, mineral colors, and the vast pantheons of deities and historical gurus who populated these brocaded thangkas.  Many of these compositions were based on xylographs or wood-block prints, which were carved in reverse, then inked and printed on handmade paper.
As a Tibetan refugee, Karma Phuntsok first trained as a traditional thangka painter, but since moving to Australia he now incorporates elements of this country's First Nation indigenous imagery into his art, with dot-painting techniques.  Faith Stone, founder of 'American Buddhist Art', lives, works and teaches in Colorado and Hawaii, and is one of perhaps only a few Buddhist artists, who is keen on reviving the traditional techniques of wood-block carving and printing.
Karma's deep devotion to his homeland of Tibet is pictorially revealed through his love of His Holiness the Dalai Lama, as is Faith's enthusiasm for depicting the Buddhist Divine in all of his or her aspects, where and when 'Eternity is Love with the Products of Time' (William Blake)."
~ Robert Beer
Author and illustrator of The Encyclopedia of Tibetan Symbols and Motifs
From the back cover of Karma & Faith.
Karma & Faith:  A book, an exhibit, weekend workshops
The Book:  Available at Dakini As Art!
The Exhibit:  From August 23-September 15th at Shoshoni Retreat Center, Colorado.  45 minutes drive from Boulder.
Opening reception with both artists:  August 23rd, 530-8pm
The Workshops:  August 23 through August 25 (Friday-Sunday) and Labor Day weekend August 31 through September 2 (Sat-Monday).
Students can choose to paint Shakyamuni Buddha or Medicine Buddha. If students have painted a Buddha they could choose to paint Green Tara.
Our congratulations go to Karma and Faith for their fruitful collaboration.
https://dakiniasart.org/wp-content/uploads/2019/08/Karma-Faith-Blog.jpg
840
1260
orgyendorje
https://dakiniasart.org/wp-content/uploads/2021/02/Dakini-Kuru-II-2021.png
orgyendorje
2019-08-05 22:33:16
2019-08-11 18:34:16
Karma & Faith