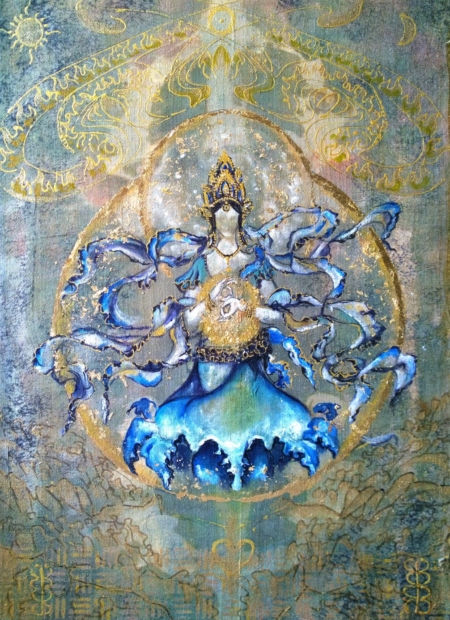 Prajnaparamita (Silk Original) – Tilly Campbell-Allen
Prajnaparamita is the feminine/Great mother personification of the "Perfection of Wisdom" from the Mahayana Buddhist sutra of the same name. She is ultimate wisdom, the essence of the 'void' made manifest. One could say, she is the nature of reality at the quantum level.
This correlates with the symbol of the circumpunct. The circle with a dot in the middle. One of the most ancient and ubiquitous symbols that mean many things to many people. To the alchemists it is gold, to the astronomers, Egyptians and the Chinese oracle, it's the sun. It is the unmanifest EVERYTHING and self. To the Pythagoreans it's eternity where the "centre (monad) is everywhere and the circumference nowhere." conversely also seen as the monad being the potential and the circumference, full manifestation.
It is akin to the zen Enso circle of enlightenment with the extra point of focus.
The circle is as Her aura and the dot is the orb of golden energy.
Subtly in the background is a dorje, a representation of the Diamond Sutra, part of the collection of "Perfection of Wisdom" sutras.
Tilly gilded the canvas then used a high quality polymer varnish to fix the silk. The symbol is highlighted in 24ct gold leaf. The gold subtly shimmers through the silk as well as create a frame. It's quite magical. Her  paintings are created with love and blessed with positive intention.
She states her wish is that these pieces will bring subtle yet profoundly powerful energy through positively imbued imagery to your space. The addition of gold, especially in alchemy, is a high frequency energy that represents the perfection of all things, as well as, in among other positive things, cleanse, balance, heal, activate the pineal gland and attract blessings.
Size: 11.7″ x  15.5″ (30cm x 40cm)
1 in stock