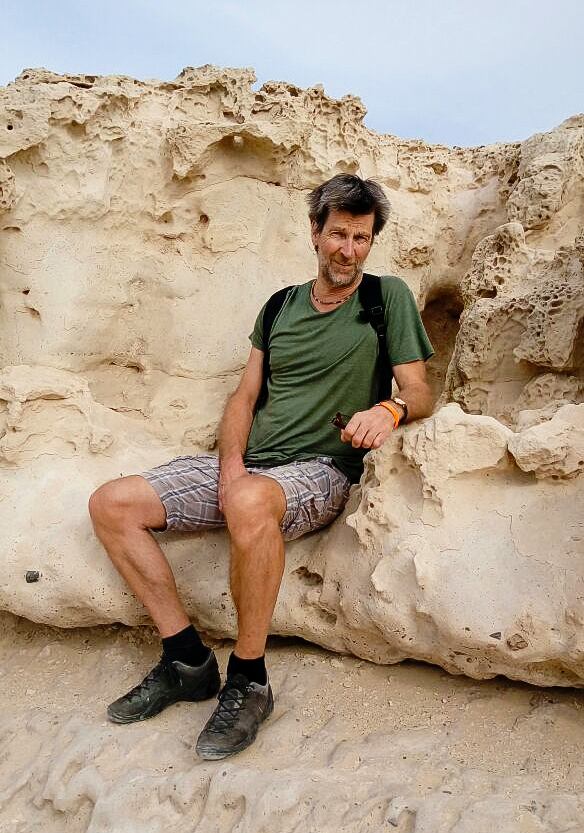 Kay Konrad was born 1952 in North Germany.
At the age of eighteen, he started hitchhiking through Europe, in France and Spain up to Formentera island – with an aquarell box and coloured pencils to find out what to do with this life.  After one year he noticed that painting would be his way to live.
He started studying at the Academy of Fine Arts in Berlin, in the beginning as an art teacher – then decided to study free painting in Vienna. Here the old master Renaissance technique of egg-tempera and oil was taught.
In 1975 he travelled again through Africa, Nepal, India … without a camera but with his paintbox.
In Austria, in the countryside he lived in between his journeys in isolated places to paint his impressions.
In 1985, he got a little book of the Dalai Lama, "Ways of Universal Responsibility."  A small drawing of White Tara touched his heart. Soon after he painted a picture of her residing in front of a cave in La Gomera where he lived at that time.
The same year he took refuge in the Dharma of Tibetan Buddhism.
He followed various Karma Kagyü teachers:
Especially Tenga Rinpoche, an emanation of White Tara. And then meeting various teachers of different Tibetan schools in Nepal, Bodh Gaya and Tso Pema – always accompanied by his little wooden paintbox with gouache colours and cartons, painting in a naturalistic way the landscapes of many holy places with their characteristic architecture and yogis and Buddhas.
In 1992 he met Chögyal Namkhai Norbu – his main teacher.
In 1994 he studied traditional Tibetan Thangka painting with Andy Weber in the Netherlands and Spain, Menorca. Since Thangka painting has become one important part of his artwork, nowadays he is using Acrylics and Gouache on canvas and various wooden grounds.

Since 1993 he is living in Northern Germany again, in a converted barn with a big studio and several rooms to show his works – as well as doing exhibitions in many different places.