About Yen Chua
Yen Chua is an artist, art therapist and educator from Singapore. For the past two decades, Yen has held many solo and group exhibitions. She works predominantly with acrylic, charcoal and ink. Her mixed media artworks are a vivid portrayal of the surreal, mythical and magical realm. They are echoes of her different mental states, dreams and aspirations, displaying her diverse concerns ranging from the need to save our delicate ecosystem to the aspirations of perfection and enlightenment. 

Yen has a BFA from the San Francisco Art Institute (1993), Diploma in Chinese Painting from the Beijing Central Academy of Fine Arts (1996), MA (Research – Dakini: A Study of Female Enlightenment) from the National Institute of Education (2002), and MA in Art Therapy from the LASALLE College of the Arts (2007).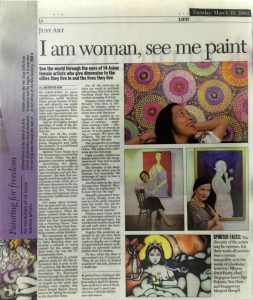 Despite undergoing a challenging childhood, Yen has transcended it and let flourish a world of imagination and artistic quest. During her journeys to Tibet and other Himalayan regions, she professes discovering her spiritual self. Her experiences during these travels, thoughts, beliefs and the self that has undergone many transformations, have since manifested themselves in her works. 

Apart from making art, Yen is also a mother. She conducts art and art therapy workshops and also lectures on art and art therapy. Some of the institutions she has taught at are the National Institute of Education, Nanyang Academy of Fine Arts, Temasek Polytechnic and LASALLE College of the Arts. She has worked with individuals and groups with social-emotional issues, inmates, children with special needs, cancer patients, teenagers with behavioural problems and elderly clients.